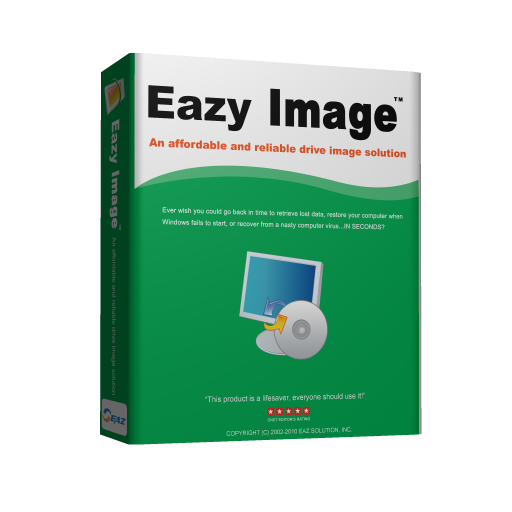 Eazy Image - Affordable and Reliable Windows System Imaging Solution
What is Eazy Image?
Creating backup images of your Windows computer in a user-friendly interface with just a few clicks and without interrupting your work in progress, Eazy Image protects your valuable data and system from disasters in the most simple and effective way!
More than 1 million users are currently using Eazy Image for:
System imaging  Data backup  Drive cloning    Disaster recovery
Eazy Image Features
1. Backup and restore files or folders without interrupting your work in progress.
2. Backup disk(s) or partition(s) to image file(s) without interrupting your work in progress.
3. Customize backup image file size, compressed or uncompressed backup images.
4. Full, incremental and differential backup selections.
5. Automatic backup using scheduled tasks.
6. Open backup image as virtual drives for file recovery.
7. Validate backup image integrity.
8. Disk cloning.
9. Create bootable recovery CD or DVD including backup images
10. Eazy Images supports both 32 and 64 bit of Windows XP, Windows Vista, Windows 7, Windows 8.x and Windows 10 (MBR or GPT disk; Legacy or UEFI BIOS).
Eazy Image Highlights
 Real-time Hard Disk Imaging Backup – All your applications remain online during the hard drive backup. Eazy Image performs hot backup and protects your system without interrupting your working process.
 Fast and Reliable System Restore – Eazy Image delivers fast workstations restore even from bare-metal state. You can browse backup images and restore separate files and folders or entire hard disk partitions and hard disks.
 User-Friendly Recovery Media Builder – Eazy Image includes a user-friendly recovery media builder that allows you to create and burn bootable recovery CD/DVDs or USB drives containing backup images.
 Hardware and Software Flexibility – Wide range of software and hardware support, local or network backup media support as well as built-in CD/DVD Burner to place HDD backup images on CD/DVD delivers great flexibility to IT professionals and system administrators.
How does Eazy Image compare to other drive imaging products?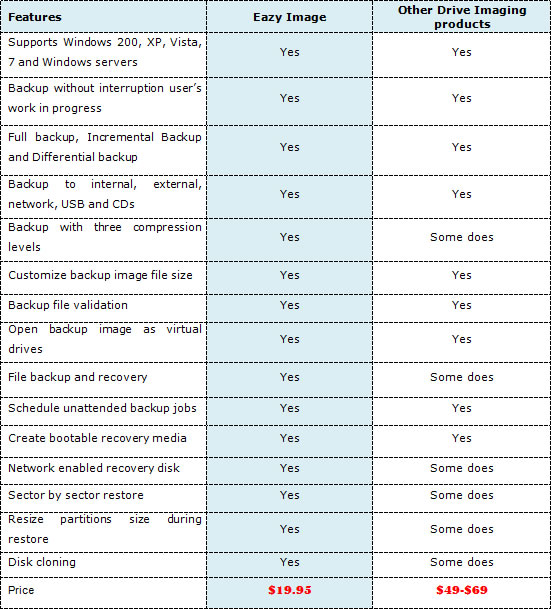 Any Problem Feel Free to Contact Us  Click Here